Inline Mass Flow Measurement of Powders and Bulk Materials in Overpressure Applications
The innovative flow measurement system VASOMETER® for free-falling bulk materials enables optimal control of process parameters in hygienically demanding areas. The dead space-free stainless steel housing (1.4404 / AISI 316 L) and the measuring cells located outside the measuring chamber allow for easy cleaning and sterilization of the measuring device.
Powders and bulk materials are gently guided onto a concave measuring cone in the measuring device, which forms the sensor of the device. The cone deflects the bulk material and generates a force, which is evaluated. The downward component of the centripetal force is detected by a composite of measuring cells located outside the measuring chamber and forwarded to a digital transmitter. With the measuring principle of the VASOMETER® inline mass flow meter, a measurement uncertainty of up to ± 0.5% is achieved. The design, with the layout of a conical measuring chute and a support of the system on the three external force measuring cells, ensures long-term stability with a repeatability of ± 0.1%.
During the production of products in hygienic plants, cleaning processes are of particular importance. Part of the production facilities is an integrated CIP / SIP system (CIP = Cleaning in Place; SIP = Sterilization in Place) for which the dead space-free design of the polished stainless steel housing is designed for a steam pressure of up to 3 bar. The strain from frequent temperature changes and wetting with aggressive chemicals during cleaning cycles has no influence on the measurement result, as the sensors are arranged outside the measuring chamber. This results in immediate availability after CIP/SIP cleaning.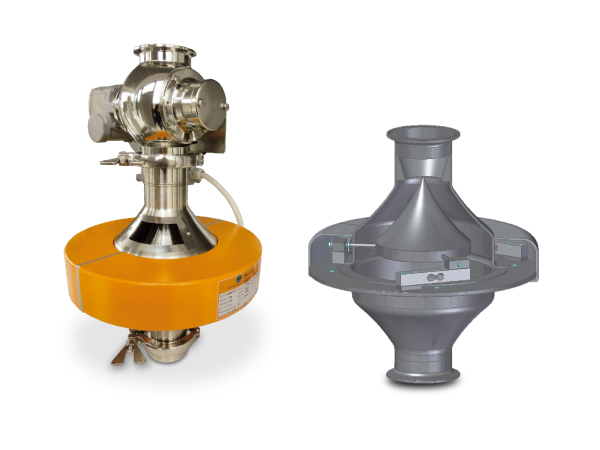 VASOMETER® mass flow meter
As a measuring device manufacturer, REMBE Kersting GmbH adapts to the special requirements of the modular design of plant-specific functional modules so that customers' plants can always be operated more efficiently. Consulting. Engineering. Products. Service. In the life science and food industry, hygiene is a decisive factor for optimal device design, especially in addition to compact size.
Here, the VASOMETER® combines hygienic properties with reducible sensor technology for optimal equipment of in-line weighing technology in mechanical process engineering for overpressure applications, using a conical measuring chute without moving components. Integration into existing systems is straightforward, so that existing plants could be equipped with the VASOMETER® mass flow meter. This includes mixing and dosing units, but also efficiency assurance through the detection of the conveying flow for automated process control. In the team of BULK MATERIAL EXPERTS, products like the VASOMETER® are developed and manufactured that inspire customers worldwide.