Stainless-steel belt scale UNIBAND®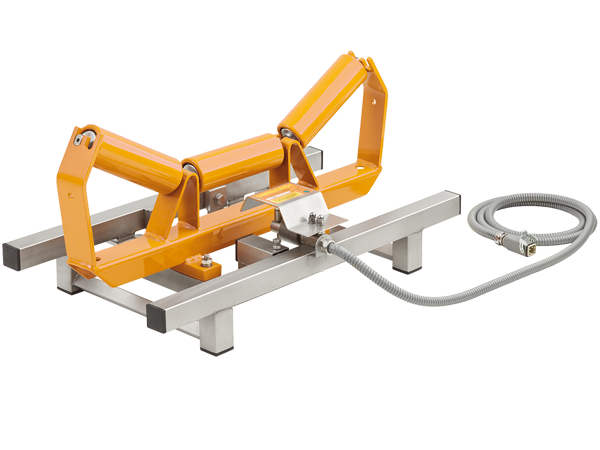 Accurate measurement of material flow rates.
The UNIBAND® is a stainless steel conveyor belt scale specifically designed for weighing continuous material flows. Its easy integration into existing conveyor systems allows for cost-effective performance and consumption measurement of various bulk materials. Thanks to its low profile, the UNIBAND® can be seamlessly integrated into any conveyor belt for mass measurement. It optimizes processes with precise measurements in a wide range of industrial sectors, including mining, agriculture, food, chemical, and more.
The easy integration of the UNIBAND® into existing belt structures is facilitated by its low profile, with dimensions that can be customized. The device is made entirely of stainless steel, making it ideal for operation in harsh process environments.
The UNIBAND® is designed for self-adjustment and requires minimal maintenance as it has no rotating bearings, resulting in minimal wear. Its robustness and corrosion resistance are ensured by the mounted fully encapsulated and laser-welded bending beam load cell. Additionally, the UNIBAND® is suitable for use in potentially explosive areas.
Operation
The material weight on the conveyor belt acts on the weighing roller carriage, which is attached to the weighing frame. An overload-protected load cell converts the weight signal into a voltage signal. An optional speed measurement wheel continuously tracks the belt speed. A downstream transmitter processes the weight signal based on the belt speed. The conveying capacity is displayed in "t/h" (metric tons per hour), and the selected counter value, such as daily quantity, is displayed in "t" (metric tons).
Customer testimonial
"REMBE® belt scales guarantee reliable and precise online monitoring at all times. Through precise process control and inventory management, our customers save a lot of time and money. REMBE® service is also excellent."
Dr. Ing. Benjamin Eule (Global Technical Manager at Stadler Anlagenbau)

Options