Plug sampler SAMplug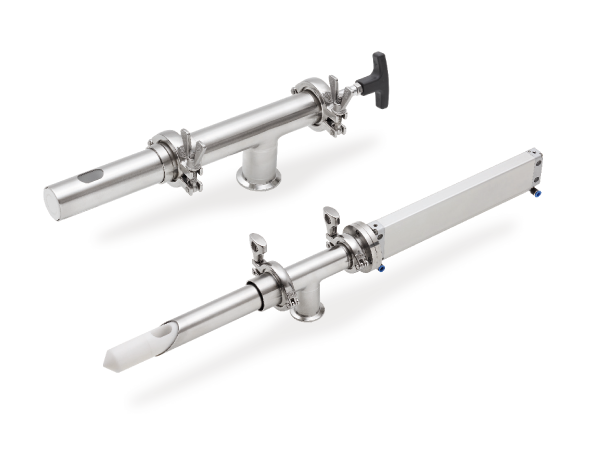 Defined sampling in inline processes.
If you're looking for a precise sampling method for your processes, the plug samplers from REMBE® Kersting offer exactly what you need. They can be used in various industries, whether in the plastics industry for sampling granules, or in the food industry for sampling milk powder. With these plug samplers, you can perform exact sampling and convince your customers with reliable sample quality.
The plug samplers are designed to eliminate the risk of contamination. They can be pneumatically or manually operated, depending on your specific requirements. Thanks to their defined sampling, they can also be used under pressure and vacuum conditions. Furthermore, they ensure gentle sample extraction, which is particularly advantageous for sensitive materials.
The samplers are suitable for use with granules and powder, scoring points with easy cleaning and assembly. Another advantage is that they can be adapted to any sampling container. With these features, the plug samplers from REMBE® Kersting prove to be the ideal solution for precise and reliable sampling.
Functionality
The plug sampler transports a defined amount of the product from the process into a downstream sample collection system, such as the LayFlat, using a plug. The plug sampler is installed in the process with the open side pointing upwards. For sampling, the plug is withdrawn from the process - manually or pneumatically. The material falls out of the opening into a previously selected sample collection system like the LayFlat from REMBE® Kersting. This way, the desired sample quantity can be extracted from the process at any time.
Options