Sample Carousel SAMbutler MIDI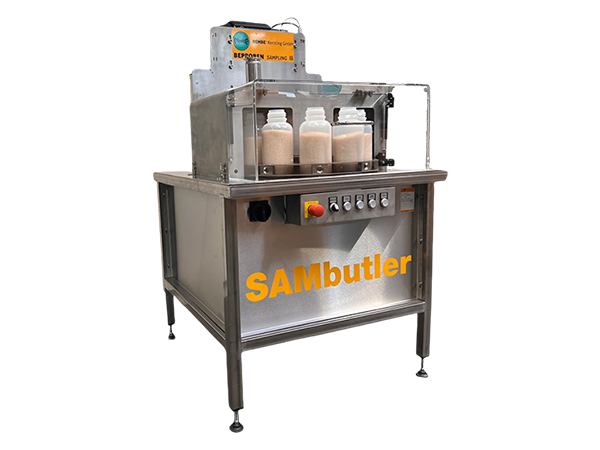 Resource savings through fully automated sample handling.
The Probenkarussell (Sample Carousel) by REMBE® Kersting is a sampling system for fully automated filling and labeling of samples and retention samples in the chemical, food, or feed industry.
Structure and technical details of the Probenkarussell: The SAMbutler MIDI has up to 32 sample positions for customer-specific sample bottles or bags, as well as a cleaning position. The material extracted from the process via the preceding sampler is automatically filled into the sample bottles. Subsequently, the sample bottles are labeled. The information for the label is provided by the customer through a database interface. After sampling, the system is cleaned into a waste bottle. The insertion of sample bottles into the carousel, as well as sealing and removal, is done manually by the employees.
Filling nozzle: 1 filling nozzle adapted to the respective sampler Function: Filling up to 32 sample bottles arranged in the carousel, each being automatically filled, as well as cleaning into a waste container. The employee seals the customer-specific sample bottles/bags. For automation of sealing, the sample collection cabinet [SAMbutler] is available.
Control of SAMbutler MIDI:
The electrical and pneumatic control components are housed in a control cabinet.
The control is not equipped for use in hazardous areas; an optional control for hazardous areas is available.
PLC control
Optional:
Vibrator for use with poorly flowing bulk materials.
Cleaning nozzles for cleaning materials adhering to the surfaces.
Scale for weight control of the sample.
Bottle magazine to extend the automatic runtime.
Connection to a pneumatic tube system for autonomous transport to the laboratory.
Options