Measuring. Weighing. Sampling.
Good day, Mr. Sudhoff, thank you for the invitation to talk. To start, could you tell us a bit about your company in Brilon?
Rembe has been a family-owned industrial group in Brilon for almost 50 years. In addition to the REMBE Kersting GmbH company with 15 employees, the group includes other companies. In total, about 250 employees work for the group, which also has numerous sales branches worldwide to always be as close to the customer as possible. REMBE Kersting is a specialized provider of products for the bulk material industry. The portfolio includes flow measurement in pipelines and conveyor belts, static weighing of containers and silos, and inline sampling from closed processes.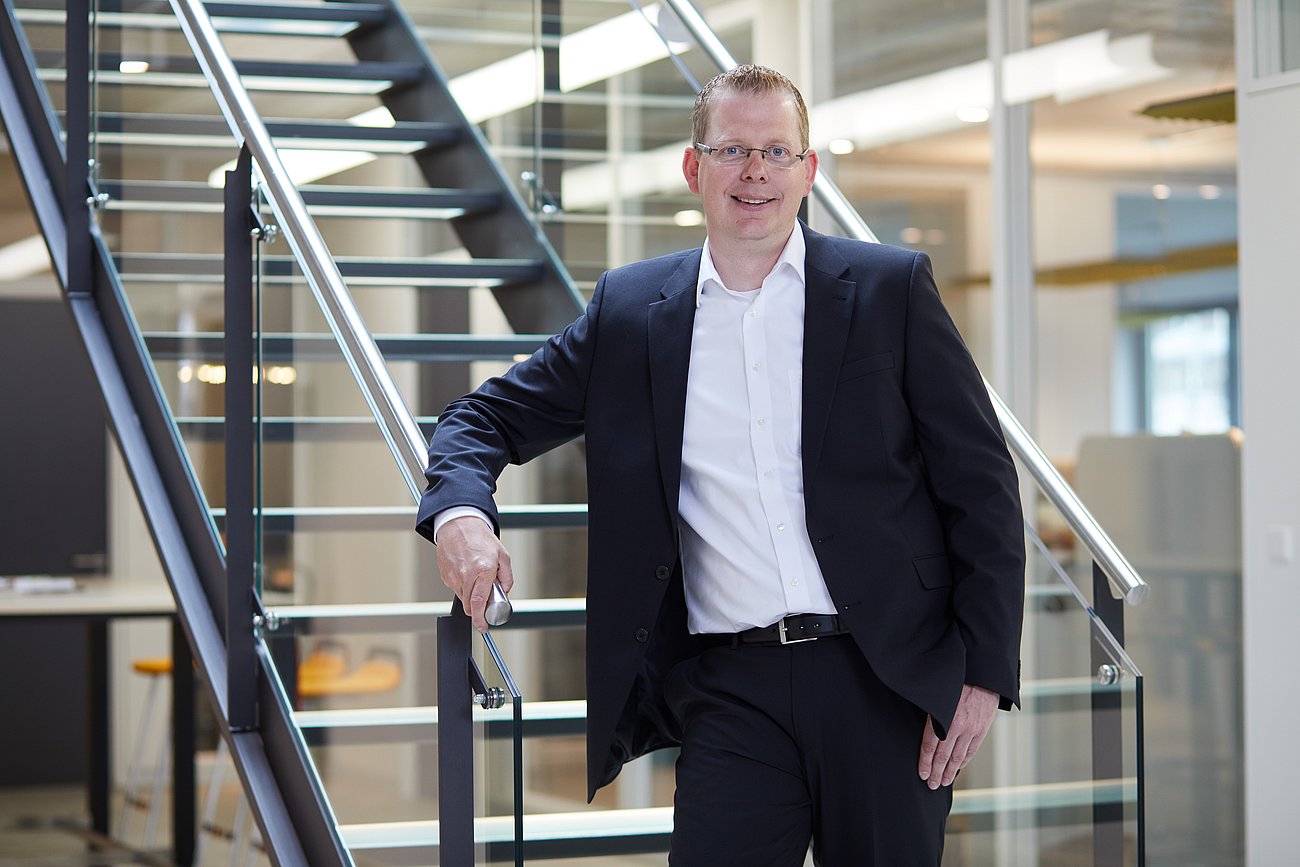 Mr. Sudhoff, can you tell our readers about your career path?
I come from the Sauerland region, studied mechanical engineering/plant technology at FH Südwestfalen, and then worked for several years in the electroplating and cleaning industry. Further activities took me to the plastics processing industry. I was able to gain detailed knowledge in sampling, hygiene, and cleanability of food and feed industry plants.
Since 2018, I have been the managing director of REMBE Kersting GmbH. The company generates about 70% of its sales in Europe but also supplies, among others, the North American and Latin American feed and food industry.
What personally drives you?
I am a mechanical engineer. I am interested in technical processes. For example, when I notice in a baby powder factory that there is essentially no automated sampling device that allows regular and representative sampling, I think with my team of engineers and manufacturing specialists about a custom solution for the company. Such tasks are diverse and exist in various industries, such as the chemical industry, pharmaceuticals, or the food industry. We are able to manufacture the optimal solution based on our extensive experience from a wide range of applications.
What are the characteristics of REMBE Kersting's products?
Our claim is to support users so that they can operate their processes, machines, and devices economically and fully automatically. The portfolio of REMBE Kersting GmbH includes a wide range of systems for handling, measuring, and analyzing bulk materials. Our customers come from various industries, from small laboratories to large chemical companies.
Especially in manufacturing industries, it is important to always know at what performance the plant is running. This ensures reliable process control and the ability to optimize processes. REMBE Kersting contributes to this by always being able to make statements about the current flow with our flow meters. This allows processes to be run stably and problems to be detected early on. It doesn't matter whether the material is on a conveyor belt, falling gravimetrically in a drop tube, or in a pressure conveyor line. It is important to emphasize that, due to the special designs of the systems, gentle and uninterrupted inline measurement is possible.
To have an overview of the stock of raw materials, our customers use our solutions for weighing containers and silos. This always gives them an overview of the current fill level in the warehouses. For this, load cells can be used as standard, which on the one hand have high accuracy, but on the other hand are very complex to install, especially when retrofitting. For years, our customers have therefore been using the MicroCells, a simple but clever solution for determining silo fill levels. These are small strain gauges that are attached to the side of the silo's support structure and can make statements about the fill level in the silo by measuring the forces in the metal. This applies equally to pillar and frame silos.
Our inline samplers
However, our largest area includes our inline samplers. We use these in various areas, but especially in the food industry. Insufficient quality assurance is evident, for example, in the regularly occurring food recalls. The reasons can range from metal or plastic parts in the final product to salmonella contamination. The difficulty lies in the multitude of different materials and the large number of installation options for the samplers.
Our systems range from cup samplers for collecting a sample in a drop tube, screw samplers for conveying material from the ongoing process, sampling from pressure conveyor lines, sampling nozzles and probes, to plug samplers, for example, for bagging systems. The places of use are, for example, goods receipt to check the quality of the delivered raw materials, during production, for safe process control, and at goods issue, to draw retention samples with which unjustified customer claims regarding quality can be fended off.
LW Probenehmer und automatisches Probenhandling
The TruckSampler allows material to be taken directly from the open truck. With the SAMButler, we have a solution for automatic sample handling, i.e., analysis, packaging, and transport of the sampled materials. This provides the customer with added value in handling his samples, as a lot of time can be saved with automatic systems, which the employee can use for other important tasks.
Mr. Sudhoff, why don't you have your products manufactured in low-wage countries?
This is primarily due to quality. In theory, we could buy abroad and certainly under cheaper conditions. But in the end, safety and quality are in question. We have to stand behind the "Made in Germany" quality. We are certified according to the regulations for pressure equipment and TÜV, among others, and operate in many highly sensitive product areas.
So there is no leeway for us. We rely on high-quality materials, in some cases on special designs made of Hastelloy. (Hastelloy belongs to the group of highly corrosion-resistant nickel-chromium-molybdenum-tungsten alloys. The material is characterized by high resistance to crevice corrosion, pitting, and stress corrosion cracking in oxidizing and reducing media. Note from the editor).
This high-quality manufacturing quality offers the advantage that we can export the proven products worldwide. By the way, this makes us very flexible in custom manufacturing, for example, regarding the penetration depth of samplers: this can range from 200mm to 2m, depending on the requirements of the customer or the respective system on site.
What about certifications for the samplers, such as FDA, ATEX, or EHEDG?
We can not only manufacture the samplers according to the FDA but also according to TA-Luft. We also take into account the respective national and international guidelines and standards that apply to the respective location. An important aspect that is regularly requested for our products is the possibility of use in ATEX zones.
The ATEX directive regulates the aspects of explosion protection in the European Union and includes the two directives 1999/92/EC Operational Directive and 2014/34/EU Product Directive. Note from the editor). We also manufacture according to the guidelines of EHEDG (European Hygienic Engineering and Design Group). The aim of EHEDG is to help implement the applicable guidelines and develop action concepts.
What does digitization mean to you specifically?
This is about feeding all the analysis data obtained back into process control to be able to adjust, correct, and optimize it. The goal is to have as short a time as possible between data collection and evaluation. This also makes intermediate steps recognizable. This gives me the opportunity to intervene already in the ongoing process and not only at the end of the process. This greatly reduces the risk of higher consequential costs, to avoid damage that can occur if errors in process control are discovered too late.
In addition, our systems can be used for automated packaging of the samples. The aim is to support laboratory staff by relieving them of repetitive work steps. The automatic sampling from REMBE Kersting offers security that is difficult to achieve manually and relieves employees.
What is your strategy regarding automatic sampling in the next five years?
The plan is to establish automated sampling in as many areas of the food industry as possible to ensure the quality of the products as best as possible and, for example, to avoid recalls. We want to contribute to this through close monitoring of product flows. We are always up-to-date and continuously optimize our samplers in close cooperation with our customers. This is based on questions like "What can be achieved even faster?" or "How can we further optimize easy cleanability?".
We are constantly faced with new requirements and challenges and find solutions together with the customers.
Thank you, Mr. Sudhoff, for the interesting insight into your company and products.